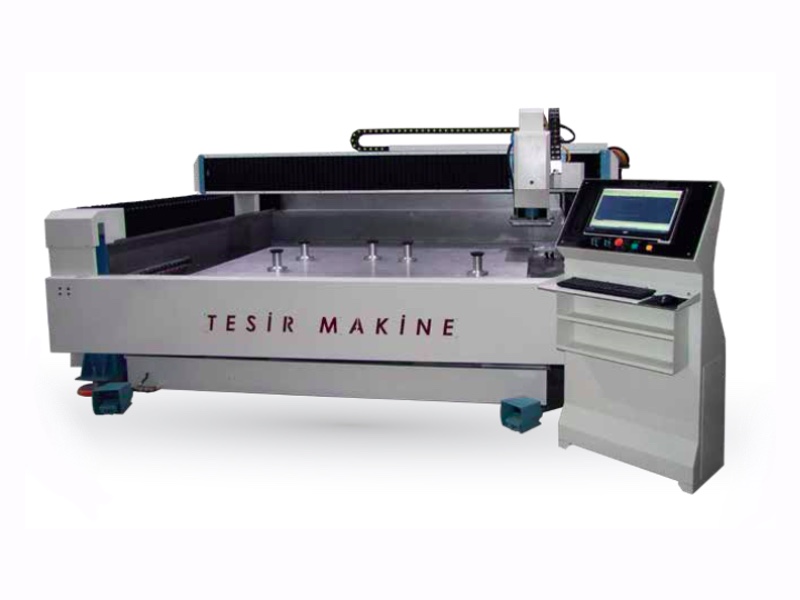 SN 100
The SN 100 is used for the grinding and polishing of shaped and flat glass with its strong construction and precise machining capability.
Fast and precise machining: Max. 1400 * 2400 mm glass is clamped very precisely by special clamp system. In addition, due to the 3-tool holder system, 12 mm thick glass can be processed in 3 stages without needing to change the tools.
Two Stations: Glasses in small dimensions are connected to two stations at the same time and processed.
Aluminum table: Due to the 20 mm thickness high quality aluminum table the machining processes are precisely carried out.
Corrosion-resistant: All surfaces in contact with water are made from corrosion-resistant material.
Magazine system: With this optional feature, tools changes are automatically performed through the magazine.
Low Processing and Energy Cost: Due to the servo-driven technology,the power consumptions is extremely low. As all processes are carried out automatically, only one person is getting a high production rate.
SN 100 TECHNICAL DATA AND PERFORMANCE
| | |
| --- | --- |
| Glass sheet width max.: | 2200 mm |
| Glass sheet width at the reference line min.: | 170 mm |
| Glass sheet length max.: | 1400 mm |
| Glass sheet length at the reference line min.: | 170 mm |
| Glass sheet thickness: | 3-19 mm |
| Glass Seaming/Deburring Speed : | 0,5-5 m/min. |
| Weight : | 3.500  Kg |
| Operating voltage, network parameters: | 17Kw |
     ADVANTAGES